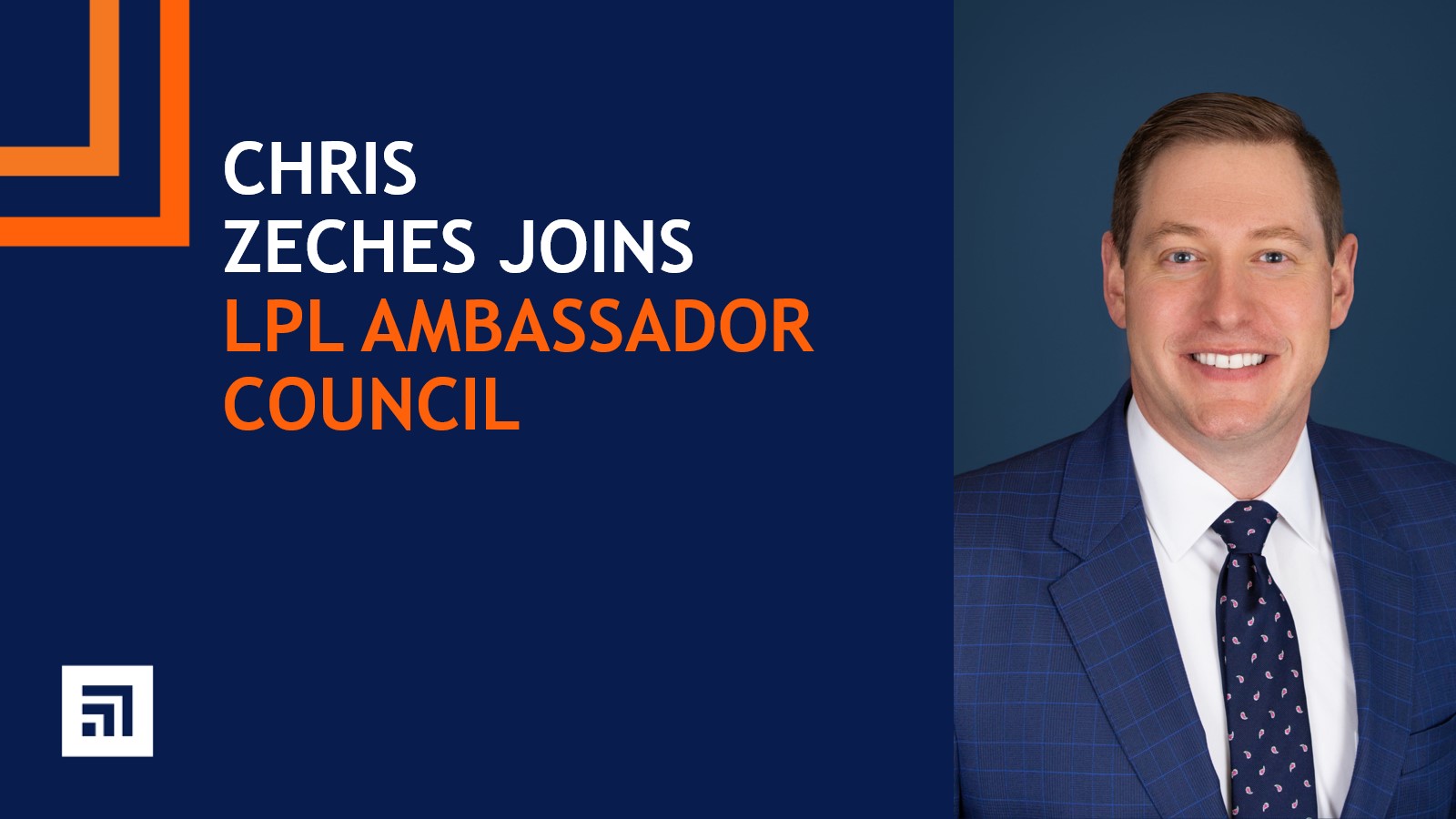 Tucson, AZ — April 11, 2023 — Chris Zeches from Zeches Wealth Management, based in Tucson, AZ, announced that he has been named by LPL Financial (LPL) as a new member of the LPL Ambassador Council. Chris is one of 60 members selected from among more than 21,000 LPL advisors and institution leaders nationwide into one of three councils designated by the members' affiliation with LPL. The LPL Ambassador Council's vision is to deepen relationships with a diverse cross-section of highly dedicated financial professionals. In bringing together these earnest, respected individuals, LPL creates a well-informed, extended advocate community.
The Ambassador Council program provides a formal opportunity for advisors and institution leaders to stay closely connected to LPL's strategic roadmap and key executives, and to share their experience, feedback, and support with peers by affiliation type. Council members serve a multi-year term and attend a series of in-person meetings during their tenure.
They also contribute through year-round ad hoc participation supporting LPL communications, events and initiatives, and by connecting with their LPL colleagues on an ongoing basis to ensure their perspectives are brought forward.
About Zeches Wealth Management
We are a father-son, multi-generational firm. Edward J. Zeches, Jr., CPA, Managing Partner, is a Certified Public Accountant (CPA), and Christopher P. Zeches, Managing Partner, is a CERTIFIED FINANCIAL PLANNER ® professional.For us, a long-term approach does not mean 10 or 20 years; it means a lifetime. We have one priority: taking care of multi-generational families and business owners by helping them work toward their goals and objectives. For some families this may mean funding an education or being able to retire. For others, it may be preserving capital and maintaining a standard of living for one generation while ensuring there's growth in the portfolio for future generations. For business owners it may mean selling their business or transferring it to the next generation.Our firm acts as your family's Chief Financial Officer leveraging extensive tax and investment expertise to meet client needs. With our accounting background and attention to detail, combined with in-depth financial planning knowledge, we are able to exceed the expectations of their clients.Our philosophy is simple. We all want the best for our families and business owners, and our mission is to help our clients achieve that.
About LPL Financial
LPL Financial Holdings Inc. (Nasdaq: LPLA) was founded on the principle that the firm should work for the advisor, and not the other way around. Today, LPL is a leader in the markets we serve†, serving more than 21,000 financial advisors, including advisors at approximately 1,100 enterprises and at approximately 500 registered investment advisor ("RIA") firms nationwide. We are steadfast in our commitment to the advisor-mediated advice model and the belief that investors deserve access to personalized guidance from a financial advisor. We believe advisors should have the freedom to choose the business model, services and technology they need and to manage their client relationships. Simply put, we take care of our advisors, so they can take care of their clients.† Top RIA custodian (Cerulli Associates, 2020 U.S. RIA Marketplace Report); No. 1 Independent Broker-Dealer in the U.S. (based on total revenues, Financial Planning magazine 1996-2022); among third-party providers of brokerage services to banks and credit unions, No. 1 in AUM Growth from Financial Institutions; No. 1 in Market Share of AUM from Financial Institutions; No. 1 in Market Share of Revenue from Financial Institutions; No. 1 in Financial Institution Market Share; No. 1 in Share of Advisors (2021-2022 Kehrer Bielan Research and Consulting Annual TPM Report). Fortune 500 as of June 2021.LPL Financial and its affiliated companies provide financial services only from the United States.
Securities and Advisory services offered through LPL Financial LLC, an SEC-registered broker-dealer and investment advisor. Member FINRA/SIPC.Throughout this communication, the terms "financial advisors" and "advisors" are used to refer to registered representatives and/or investment advisor representatives affiliated with LPL Financial.We routinely disclose information that may be important to shareholders in the "Investor Relations" or "Press Releases" section of our website.
Zeches Wealth Management and LPL Financial are separate entities.

Zeches Wealth Management, A Registered Investment Advisor.